agencja Celna Alfa
Agencja Celna Alfa is a licensed customs agency operating for many years. We leave at your disposal a team of experienced customs agents who, thanks to continuous training in the field of constantly changing customs regulations, guarantee you services at the highest level.
Since our accession to the European Union, we also offer our clients the possibility of performing fiscal customs clearance outside Poland. We offer service in all customs procedures and consultancy.
Do you need to clear customs quickly and easily? Rely on professionals
We have many years of experience in customs clearance and procedures. Our agents are people with extensive experience in the industry and many years of practice.
Alfa Customs Agency – what we offer
Customs declarations for all customs procedures
Customs debt security
transit guarantees
Full representation of the client before the authorities of the National Revenue Administration
Specialist advice in the field of customs for our clients
Reliable partnership for our clients and business partners, based on solid foundations: contracts, fair play rules, honesty, trust.
VIP – CONSIERGE service
comprehensive service dedicated to our regular customers and business partners
Customs Agency – Alfa services:
Remote checks throughout the country, export and retrospective checks with alternative confirmations
Customs clearance in places recognized by the Customs and Tax Office throughout Poland. Simplified and standard checks 33a
Protection of a potential customs debt in the transit procedure
Full representation of the client before the authorities of the National Revenue Administration and, upon request, presence at the customs inspection
Professional consultancy in the field of tariffication of goods as well as customs and tax matters related to the turnover of goods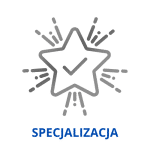 We specialize in clearance of bulk goods: coal, coke, scrap
We have extensive experience in resettlement property clearance
We efficiently navigate the available port systems in Gdynia/Gdańsk
Inward processing, temporary clearance with their settlement
Odprawy we wszystkich portach w Polsce oraz na terenie całego kraju
Sprawnie poruszamy się po dostępnych systemach portowych w Gdyni/Gdańsku
Uszlachetnianie czynne,odprawy czasowe wraz z ich rozliczeniem
Customs Agency – authorized entrepreneur
We have the AEO Certificate, which is a guarantee of meeting security standards in the supply chain
Benefits of having the status of an authorized economic operator:
Fewer document and physical checks
priority treatment of the shipment in the case of selection for inspection,
carrying out checks out of sequence,
possibility to choose the place of inspection,
prior notification of selecting a consignment for inspection,
faster and easier access to customs simplifications, as well as exclusive use of certain customs simplifications,
facilitating the process of applying for the status of regulated agent, known consignor and account consignor,
the guarantee of a reliable trader who respects Community law when making transactions.
Download AEO Certificate
We provide forwarding services in accordance with the General Polish Forwarding Conditions PISiL (01/01/2010) with the possibility of agreeing on their extension DOWNLOAD